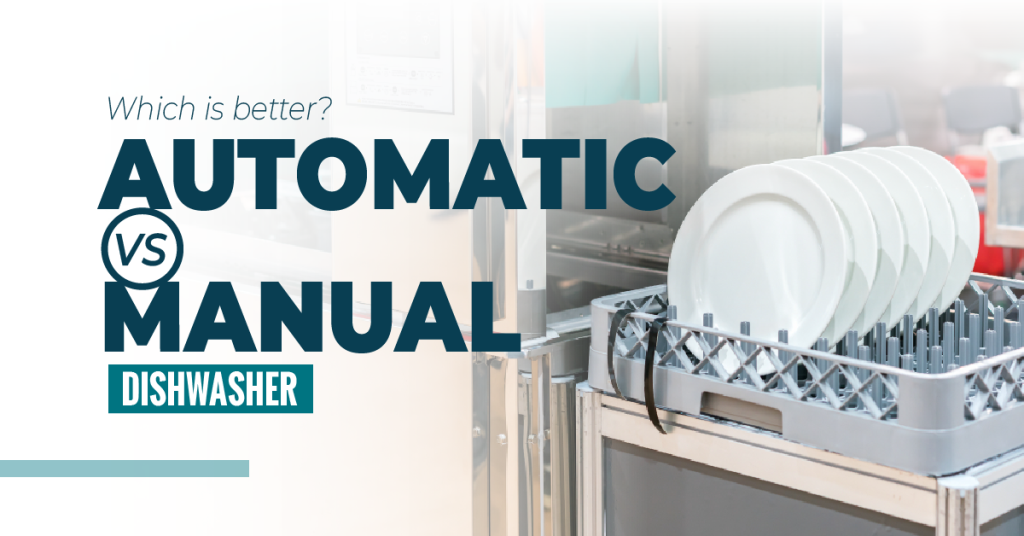 Automatic Dishwasher vs Manual Dishwasher
While manual dishwashing relies heavily on physical scrubbing to remove soil, mechanical dishwashing cleans your dishes by spraying hot water typically between 45º and 75º C, with lower temperatures used for more delicate items. This apparent difference implies that not all chemicals are suited for both manual as well as automatic dishwashers. While some work wonders for manual dishwashing, others complement automatic dishwashing. Here is a list of products you can consider for either type, which will make your job a lot easier and faster for you: 
If you have only a few dishes and utensils to wash, you might find it more convenient to wash by hand. It will not only save time but also use less water. And you can control the consumption of water and electricity. On the downside, you might find it tiresome to get rid of tough stains and hardened soil particles. Spending too much time washing dishes can also dry and damage your skin. 
To protect your skin and leave your dishes, glasses, pots, and pans looking sparkling clean, we recommend you use CAPTURE, it is an odourless dishwashing liquid. This fragrance-free liquid will be gentle on your skin as well as remove the toughest of stains. 
CAPTURE is a concentrated all-purpose neutral detergent suitable for general cleaning, with specific applications in hand washing. CAPTURE provides excellent cleaning of greasy soils and grime leaving no streak.
When you have a good deal of dishes to wash, using a dishwasher would be the more sensible thing to do. Since you can put all the kitchen utensils in one wash, it will save you time and help you save water. Also, using piping hot water will eliminate germs that may be stuck to the dishes or pots. 
Using the right detergent is the key to achieving a fuss-free cleanse with an automatic dishwasher. We recommend the REBOUND. It is an automatic detergent designed for professional dishwashing that not only degreases all dishes, glasses, and cutleries but also washes away stubborn residue and leaves behind a mirror-polish shine. 
REBOUND is a chlorinated low foaming liquid designed for dishwashing machines. REBOUND provides outstanding economy and performance to tackle the toughest proteins, starches and stubborn grime on dishes, glasses and cutleries.
Found in some dishwashing detergents, rinse aid is a surfactant that reduces the surface tension of water. Rinse aid prevents water from forming into droplets and instead encourages it to drain from the surface. 
Introducing VANISH, a rinse aid that is meant to be used in automatic dishwashers, this is the perfect product if you want to prevent scale build-up on machine parts, leave your dishes and glasses sparkling with a streak-free shine, and improve drying time. 
VANISH is a low foam rinse additive aid and drying agent to be added at the final rinse cycle stages in all types of commercial dishwashing machines. VANISH will prevent water spots, improve drying time and assists in foam control in multistage dish machines
A descaling agent is a chemical substance used to remove limescale from metal surfaces that have come in contact with hot water. Descalers are typically acidic composition, and they react with alkaline compounds present in the scales. 
If you're looking for a perfect descaler to dissolve limescale build-up on the arms, nozzles, and jets of automatic dishwashers, we suggest you take a look at the features of the LIMEX, dishwasher descaler. It removes rust, detergent residue, and other mineral deposits. And the low-foaming formula also improves your ware-washing results. 
LIMEX is a concentrated low foaming liquid, a blend of organic acids and corrosion inhibitors designed for effective removal of rust, lime and calcium deposits from iron, steel or stainless steel parts.
Disinfectant sanitisers are capable of eliminating microorganisms, including bacteria causing food poisoning and other diseases. This type of product kills harmful bacteria without compromising the safety of any food that comes in contact with the plates and serving dishes. 
DESTINY is highly recommended for those looking for an economic and fast-acting formula. It is designed for sterilising surfaces in food processing areas. It also destroys moulds, fungi, and algae without leaving behind any residue of harmful chemicals. Another advantage is that it is completely odourless, which makes it perfect for use in food contact areas as it won't leave an odd taste on food that comes in contact with it. 
DESTINY is a versatile wide spectrum disinfectant based on quaternary ammonium compound (QAC), for cleaning and disinfection of surfaces in food processing, dairy and beverage industries. DESTINY offers an excellent disinfection activity against gram-positive and gram negative micro-organisms, bacteria, yeasts, moulds, fungi algae etc
Don't forget to browse through the list and check the technical datasheet to get a detailed description of each product. Send us an enquiry or click the SDS (Safety Data Sheet) button if you want more info on any of the items.
NEED MORE CLEANING SUPPLIES?
Full list of cleaning products for cafe/ restaurant under one booklet.