After a long day of cooking in the heat of the flames, one can end up in a messy kitchen such as splatters of sauce, oily stains accumulated around the cooking area due to the oil evaporating into the air and sticking to the walls and a full of unwashed dish starting to fill up. Thus, we pick the top 5 kitchen cleaning products you must have in your kitchen to clean all of that unpleasant and stubborn residue in your kitchen, from cleaning your cutlery to maintaining your cooking top to cleaning the outside of your wood cabinets and range wood.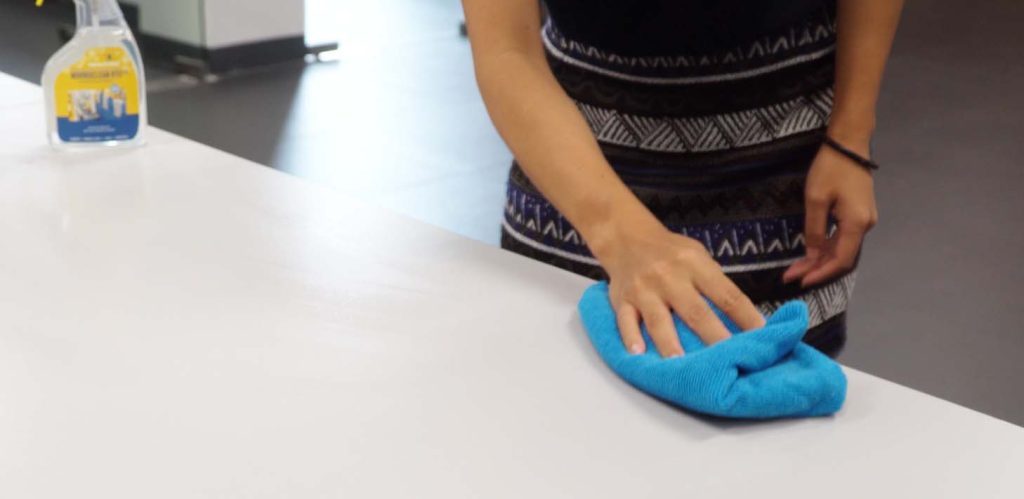 The first product on our top kitchen cleaning products list is to invest in microfiber cloth instead of your standard cloth. Why? You may ask. It is because microfiber is a synthetic material that is 200 times thinner than a human hair which makes them very absorbent. Microfiber is also positively charged which makes them attract negatively charged dirt and grease with more ease. Even without chemicals, microfiber cloths are able to clean dirt and grease with relative ease. And top of that microfiber cloth dries faster and hampers for bacteria to grow. Due to the micro and high absorber properties, the microfiber cloth can absorb emissions coming out from the cleaning chemical from going into the air hence it is more environmentally friendly. Click here more an in-depth dive into microfiber properties and its use case scenario.
High-quality microfiber for an excellent absorption
Dry use: Removes dust and prevents re-deposition
Wet use: Provides deep cleaning, removal of dirt and absorption in one step
Ideal for plastic surfaces, aluminum, stainless steel, glass, wood, marble, etc.
Extremely resistant: can be washed 300 times
Washable in the machine at 60°C
Slippery floors are not only irritating but also a hazard especially if you have the elders around. Tile floors and wood vinyl floors of the kitchen can be notoriously slippery when you mop the floor whereas else spilled grease, oil and liquids on floor surfaces are often at the root of the problem. With the fast pace of living in this modern age, people don't have time to wait for the cleaning chemical residue to dry up, therefore keeping the floor free of slipperiness is productive. Without people realising there are some chemical agents that you can use to eliminate the slipperiness. Let me introduce you;
The use case of a grill and oven cleaner goes beyond just cleaning the grill and oven but is also used on the magnitude of other areas and parts of the kitchen such as cabinet handles and knobs, walls, range hood, cooktop, etc. This is because it contains properties that enable it to quickly penetrate burnt and grease. It is very effective at cleaning stainless steel, ferrous and non-ferrous metal and leaving shine as new. But what makes a grill & oven cleaner one of our top picks for the top 5 must-have cleaning products is that it also prevents immediate re-rusting from the dissipating oil in the air when cooking and to top it, it is also NSF and Halal certified so, in other words, it is safe for food surfaces cleaning
We recommend getting Alkakleen for your grill & oven cleaner.
3 in 1 action: Degreases, decarbonises and prevents immediate re-rusting
Quickly penetrates to remove burnt and greases
Makes your worktops, pans, grill, ovens, fryers, hoods and cooktops clean
Can be used on stainless steel, ferrous and non-ferrous metal
Safe to use on all food areas
Halal Approval: C9664
Food Safe Tabletop Cleaner
Tabletops are exposed to grease, dirt and food scrum the most. It's also where food is being prepared and served. So it's very important for the cleaner used to clean the tabletop to be food safe and food safety certified. One of the notable certifications is NSF (National Sanitation Foundation), strict standards and procedures that range from extensive product testing and material analyses to unannounced plant inspections, every aspect of a product's development is thoroughly evaluated by them.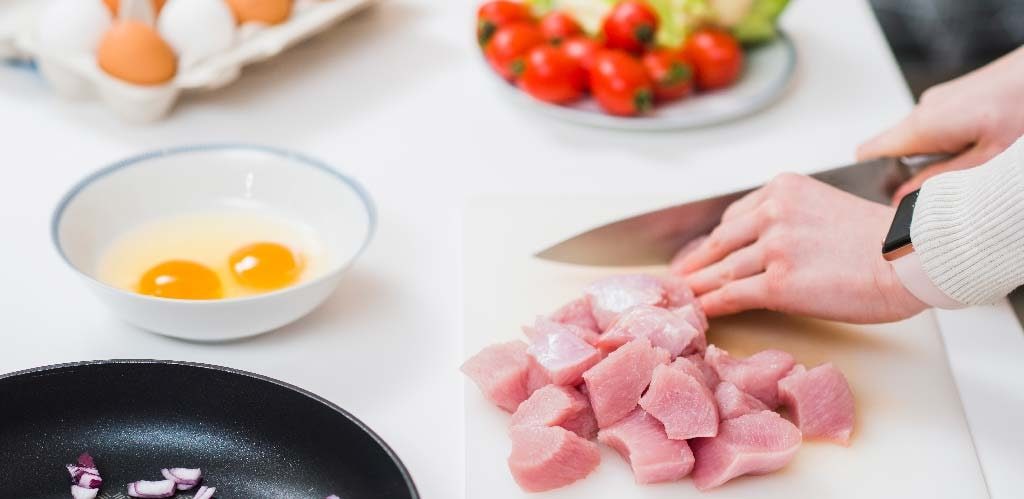 Here is our pick for food safety tabletop cleaner:
3 in 1 action: Cleans, sanitises and eliminates odours
Removes grease, soils and food stains
Recommended for cleaning floors, walls, food processing plants, food transport vehicles, containers
Make your kitchen surfaces sparkle
Odourlesss
Completely safe to use on food contact surfaces
Halal Approval: C9664
NSF Certified
DERMATOLOGICALLY TESTED - NON ALCOHOLIC HAND DISINFECTION CLEANER
Especially in today's age where we use multiple usages of hand sanitiser per day, our skin is subjected to becomes more dry and prone to more irritation than ever before. Investing in the dermatological tests hand disinfection that also cleans your hand before preparing food in the kitchen could go a long way in nourishing your skin and leaving you healthy-looking skin. You don't want your hand to look this by the age of 30.

For this type of cleaning kitchen product, we would recommend Bacfree.
NEED MORE OTHER FOODSERVICE SUPPLIES?
THAN JUST YOUR KITCHEN SUPPLIES?