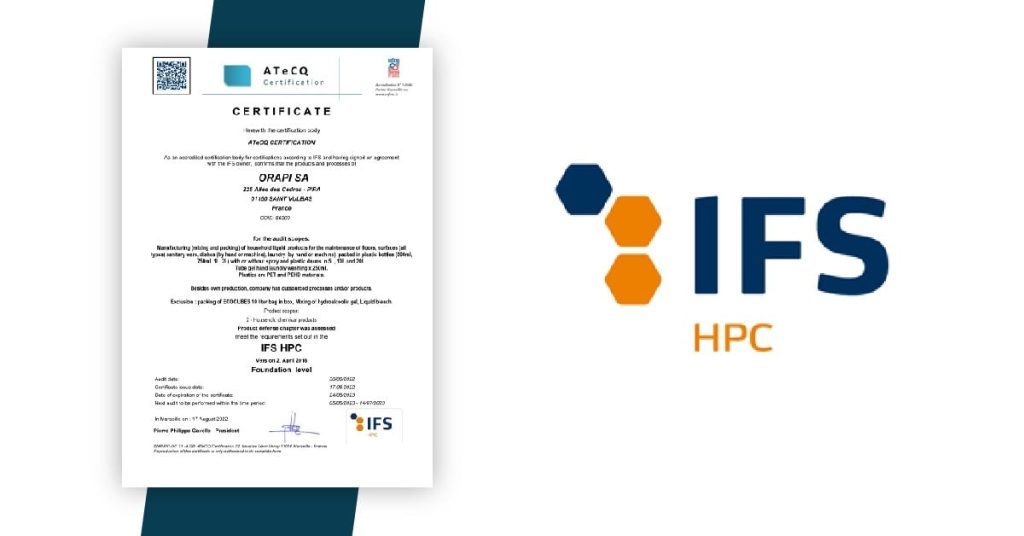 The IFS HPC certification was awarded on August 17 to ORAPI for the detergent products manufactured in its Saint-Vulbas factory (floors & surfaces, linen, sanitary ware, dishes). This certification guarantees customers the conformity and the quality of hygiene products. This certification thus stands to guarantee that ORAPI thus continues its daily commitment to offer products that are safe for the health and safety of users.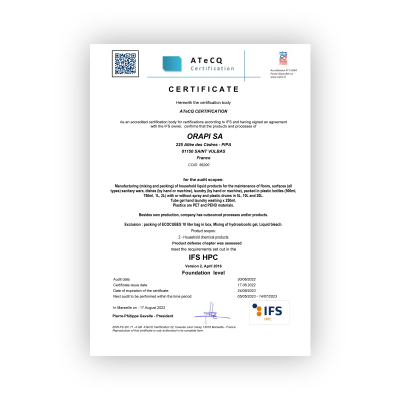 IFS HPC Certification Download
Benefits for Our Customers
By offering ORAPI this certificate the IFS board recognises that ORAPI takes issues of risk management seriously, therefore allowing us to demonstrate that our (ORAPI's) products are guaranteed do not represent any hazards for health and/or safety of consumers.  
In addition to risk management, the HPC audit also focuses on checking customer specifications, traceability, and crisis management among many other crucial parameters. 
One important thing to note here is that the certification also warrants the fulfilment of customer specifications, which are essentially instructions issued by a customer that describes the requirements of a system and the expected services of a contractor.
The IFS HPC is a standard for auditing safe and quality products/processes of suppliers concerning the manufacturing of household and personal care products. The development of this Standard was made possible thanks to the common work with HPC industries, retailers and certification bodies which took care of the main aspects of this Standard and at all times tried to reflect the evolving needs of the HPC industry. As a result of this work, the IFS HPC is the most tailor made standard to audit household and personal care products and their processes, and to ensure that products do not represent any hazards for the safety of consumers.
Since day one, we have strived to maintain maximum health and safety standards while fulfilling our customers' expectations to our fullest potential and ensuring our products remain sustainable for the greater good of everyone. So receiving the IFS HPC certificate not only gave us the consolation that we have been successful at achieving our goals but also made us feel deeply honoured.
AIrcraft Essential Application Guide
Complete list of Aircraft MRO + Cleaning Products under 1 Download