For the past 40 years ORAPI has worked in partner-ship with the Textile Care Industry to understand their process from inside and develop innovative Products and Processes which exceed the ever increasing demands in term of Hygiene standards, Quality, Productivity, Health & Safety as well as Environmental Regulations.
ORAPI offers effective tailored programs for tunnel washers and wash extractors to enhance the entire washing process through premium gentle care detergents, reliable injection dosing systems, state of the art Management Information System and Energy Management Systems that optimize utilities savings and ensures water conservation.
Our Laundry Specialists work every day with On-Premise (OPL) and Commercial laundries experts to achieve the highest quality wash results at the optimal operating cost.
Our sales Engineers and Laundry Specialists deliver theory-based and practical training to your staff and especially the newly hired. This information can be complemented by refreshers carried out over the course of the year following audits. The main topics covered are:
Product applications
Chemical Safe Handling
Basic of Laundry
Bleachs & alkalis
Laundry Operation flow
Design of Wash process
Tunnel Washer and Extractor Basic
Rewash Process
Operation: Classification of fabrics, Presorting, Load sizes and loading, Drying and ironing, Storage and stock rotation of linen, General maintenance of the machinery)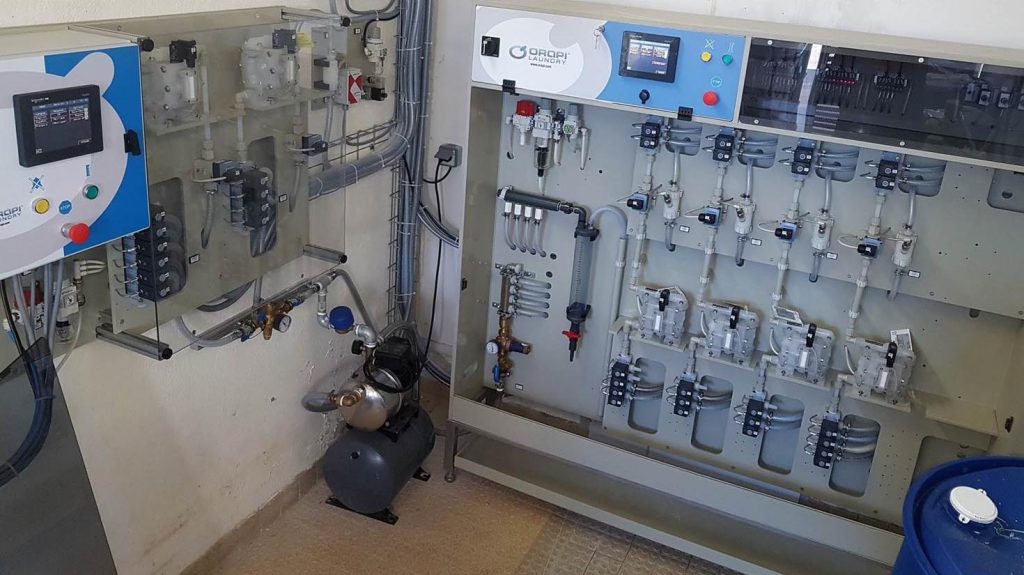 MANAGEMENT INFORMATION SYSTEM
We provide adapted State-of-the art Management tools for tunnels and wash extractors:
Maximized efficiency and improve processes
Enable to reduce operational costs
Monitoring and control of the relevant washing parameters:
Batch analysis (linen type)
Daily and monthly production wash load
Re-wash analysis (total, per linen type)
Chemical concentration analysis (pH, Alkalinity, oxygen, temperature)
Real time monitoring and control of detergent, water, and energy usage
Detailed production reports of the overall laundry operation costs
Remote application
Diagnostic
UTILITIES MANAGEMENT SYSTEM
Solutions for substantial utilities savings and optimized production efficiency
Water savings through recovery of waste water
Washing processes geared towards the recycling of pre-wash and rinse water
Heat and steam recovery system optimization
Recovery of energy from waste water discharge through heat exchanger
Low temperature washing processes (50-60°C) enabling lower energy consumption
Reporting and control of water, gas, energy
Assists production supervisor to manage energy operations
Detailed production reports of the overall laundry operation costs
Software integrated in Management Information System